SCRIPTINGS#7 and SCRIPTINGS#8
You are cordially invited to the seventh and eighth edition of Achim Lengerer's Scriptings series with the live-presentation "A patient waiter is no loser." by David Bennewith and the release of the Scriptings publication "IN/OUT/EITHER/NEITHER" by Alexis Blake. The event takes place Sunday, October 25, 7 p.m. at Korjespoorsteeg 12, Amsterdam, NL.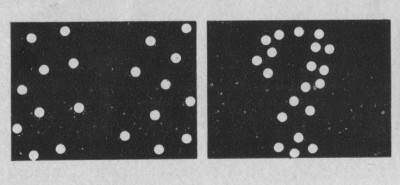 #7
"A patient waiter is no loser." by David Bennewith
David Bennewith will present his collection of notes surrounding the [visible] dot and its reception. The presentation will be conducted via connected manifestations of the dot — and it's activities in relation to text [messages]. The outcome of the presentation, helped along by graphic design, will manifest in the prospective Scriptings publication "A patient waiter is no loser."
David Bennewith (Auckland, New Zealand, 1977) is a graphic designer based in Amsterdam. Working under the moniker 'Colophon', since November 2008, David produces and publishes non-commissioned work. Colophon is interested in typography and relies on empirical research into subjects surrounding typographic design. Recent projects include: 'Public Arena', a publication for Dutch Art collaboration Bik Van der Pol and 'Joseph Churchward', edited and designed by David Bennewith, co-published with Clouds, Jan Van Eyck Academie and Colophon. www.colophon.info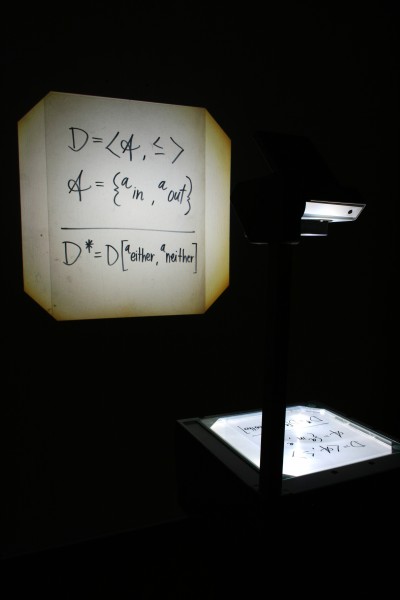 #8
"IN/OUT/EITHER/NEITHER" by Alexis Blake
ANNE: … Yeah, You accept the boundaries that that you have. Maybe you put them up yourself, maybe
they come from other things. But if you accept the boundaries, then you can feel quite free, even
though you might not be.
From July 18-21, 2009, the artist Alexis Blake held four focus group* meetings in the Stedelijk Museum's De Bouwkeet in the centre of Amsterdam, NL. With the assistance of moderator Stephanie Blake, Ph.D., she examined how individuals reflect upon the notion of choice. The focus group participants were presented with historical and present-day references — images, video clips and text — that used the rhetoric of choice to communicate either a personal or collective set of beliefs, ideals and/or truths. Using dialogue fragments from this focus group research and quotations/equations from her conversations with Michael Franke – a logician and philosopher of rational choice theory – Blake wrote a lecture that will be presented this evening as the publication Scriptings#8: "IN/OUT/EITHER/NEITHER".
Alexis Blake (US) is a visual artist based in Amsterdam, NL, where she is currently a resident in the SMBA residency, RED A.i.R. She received her BA from St.Olaf College in the US and her MA in Fine Art from Piet Zwart Institute in Rotterdam, NL.
*A focus group is a qualitative research method that uses a moderator to facilitate group discussion in order to acquire knowledge about a certain topic or product.
Scriptings
Showroom and publishing house Scriptings at Korsjespoorsteeg 9/12, Amsterdam, the Netherlands.